For almost 20 years starting in 1982 our West Virginia Scholars Academy focused on personal development and statewide growth in college attendance. Each year of the program we identified 100 promising high school juniors. A handful of them attended a month-long intensive course at the Spruce Knob Mountain Center where they read extensively, discussed ideas, explored the world around them, and ended up writing 100-page autobiographies. Graduates of the program mentored the new class of Scholars throughout their senior year of high school including the college admissions process. 
Each year we published selections from the Scholar's writings. These are selections from those anthologies.
---
excerpt from Fascination Street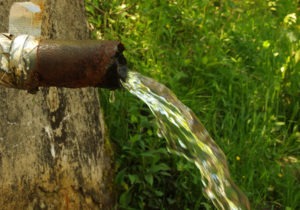 by Joaquim Hailer (Pendleton County)
1993
About two miles down the road is a spring, a dark cool place in the heat of summer. Under a mighty oak and a hollow tulip tree, a patch of jewelweed flourishes. It is the biggest jewelweed that I have ever seen, and the translucent green seems to cool the very air. A concrete spring box, covered by an old piece of plywood, drains through a single pipe. The plastic pipe, broken off at the far end, is coated with brownish-green algae. The water flowing out of the pipe is wonderfully clear and cool, and sparkles in the occasional sunbeam that manages to find its way through the heavy foliage.
A small pool has formed under the pipe, a pool in which the sand on the bottom leaps up from the pressure of the water that seeps up through the ground. There are several crayfish, but never more than one minnow in the pool at the same time. An intrusion of gravel along one edge marks where the water from the ditch along the road overflows during a heavy rain. A heavy, half-rotted plank stretches across one side of the small pool. A large hole has rotted through, and the constantly lapping water has smoothed the rough edges. It is on this plank that I kneel to fill up the many milk jugs in which we carry all of our drinking water. The jugs fill up at a rate of exactly one every seven seconds, although seepage around the base of the spring box proves that the spring is much more fruitful than this. While filling the jugs, I can see where the dirt road ends onto a paved one. Cars speed by often, their drivers not realizing that the world that I am experiencing even exists.
After filling all of our jugs, we drive slowly up the road and back home. Rabbits and groundhogs are thick along the road — the rabbits flourishing in the brush along the roadsides, the groundhogs in the steep dirt banks.